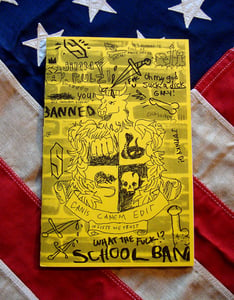 $

5.00
"TO ALL YOU DUMB CUNTS, BULLY IS PROPERTY OF R*.
But this throbbing SAUSAGE PARADE was assembled by wizardfistfight@yahoo.com (PSYCHO) & dangercock666@gmail.com (SLUUUT). Email if you want more copies to wank off to"
------
Give us your grubby $$$$ and we will give you 16 pages of Bullworth's hottest troublemakers and libelous graffiti. 8.5"x5.5" zine, high quality photocopying (like you give a damn), yellow card-stock cover, and over 40 (count 'em, 40) DRAWINGS OF COCKS. American flag not included.
we don't aim to make a buck off this, we just wanna spread our corrupting filth to the youthful masses of today.
Your anonymous heroes,
WFF & DC666